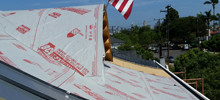 Titanium® PSU30
PSU30 is a professional grade 45 mil self adhesive synthetic roofing underlayment for protection from wind-driven rain, water, snow & ice dams. Use under all: Metal, Tile, Slate, & Shingle roofing.
Titanium PSU30 is the only modified rubberized asphalt Peel & Stick with a tough, rugged surface and a self sealing lap system!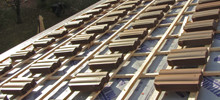 Titanium® UDL50
UDL50 is a 30 mil synthetic roofing underlayment for use under all premium: Metal, Synthetic, Ceramic, Clay, Slate, Concrete & Shingle roofing.
Titanium UDL50 is a highly engineered, mechanically attached, coated woven synthetic roofing underlayment for sloped roofs. Titanium UDL50 is the first product for sloped roofs to address high end primary roofing products with long life warranties such as metal, clay & concrete tiles, slate and heavy weight laminated asphalt shingles.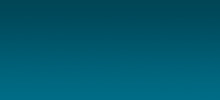 Customer Loyalty Program
The 2019 Customer Loyalty Program is moving! To learn more and submit invoices for the 2019 Customer Loyalty Program, please visit www.clprewards.com.