BE WATER SMART.
RhinoMat 1000 is a 40 mil (1.0 mm) geomembrane specifically designed for use in water retention and containment applications to Weld Easier, Install Faster, and Contain Better. For applications where containment is critical, RhinoMat's durable, stress crack resistant, lightweight construction provides maximum performance in all climates and environmental conditions.
WELD EASIER.
Made with SurFlex™ surface technology, a polyolefin blend surface film which allows for outstanding thermal fusion welding
Designed for optimal welding temperature and speed to create exceptional seams
Flexible construction enables efficient seaming of a wide variety of panel shapes and sizes
INSTALL FASTER.
Wide width flexible sheets facilitate factory fabrication to reduce field seaming time
Factory fabricated seaming capability ensures higher quality welds which require fewer time-consuming destructive field tests
Allows for large factory fabricated panels to be customized to accelerate project field installation
CONTAIN BETTER.
High strength woven core and engineered coatings provide outstanding longevity and chemical resistance
Meets or exceeds properties of Category 1 (Severe) of the GRI-GM30 specification from the Geosynthetic Institute (GSI)
Hydrostatic, puncture, and abrasion resistance stands up to the toughest installation, maintenance and environmental stresses
RhinoMat 1000 is a Smart Choice

Features Strong Construction
40 mil (1.0 mm) our thickest geomembrnae
Inner woven core layer provides dimensional stability with impressive tensile and tear strength
Puncture, abrasion and chemical resistant construction
Outstanding hydrostatic resistance
All layers contain UV protection
Meets Industry Standards
GRI-GM30 Compliant – RhinoMat is the first portfolio of products to meet this standard
Non-toxic, no PVC or other hazardous materials used in the geomembrane
Impressive UV, ozone and oxidation resistance
Provides Warranty Protection
Standard limited warranty:
20-years buried, 10-years exposed
Available special registered warranty (clear water applications):
25-years buried, 20-years exposed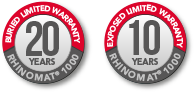 RhinoMat 1000 Applications
Containment:
Agriculture & Aquaculture
Mining & Energy
Secondary Containment
Wastewater Lagoons
Landfill Covers
Retention:
Golf Course Ponds
Stormwater Management
Irrigation Storage
Canal Liners
Potable Water Reservoirs
RhinoMat Literature
Warranty Information
Contact your RhinoMat Sales Representative: